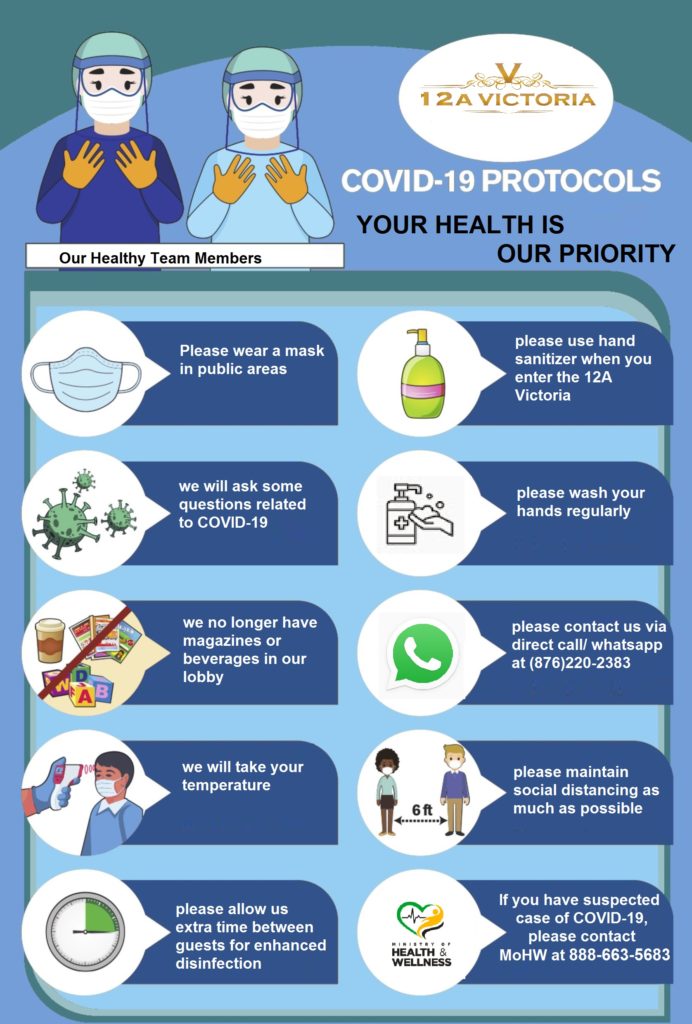 COVID-19 SAFETY PROTOCOL
Here at 12A Victoria, the safety of our guests and team members is our top priority. As we look forward to continuing to welcome our locals, our regulars and guests from all over the country and around the world, we have stepped up our preparedness so we can offer the same special welcome and service to which our guests have become accustomed.
With that in mind, we'd like to share with you some of the proactive measures we are taking in light of the current and changing challenges of COVID-19.
We will continue to follow updates and apply protocols from the World Health Organization and Ministry of Health & Wellness Jamaica, ensuring we are going above and beyond to look after our valued guests as always.
Many thanks for your continued and valued custom,
12A Victoria Team


COVID-19 Response Team
12A Victoria Limited has a Covid-19 Response teamthat was activated in April to monitor and address on-going changes to operational and other procedures following industry best practices.
COVID-19 Sanitation Training
Our team members have received COVID-19 safety and sanitation protocols training from the Tourism Product Development Company and the Ministry of Health and Wellness including general sanitation guidelines and proper use of personal protective equipment.
General:
Temperature checks are being administered to all guests upon check-in and all team members on arriving to work. Guests and Team members may also be subject to additional temperature checks performed at random
Frequency of cleaning and disinfecting of all public spaces has been increased with special attention paid to "high-touch" areas; e.g.: door handles, public bathrooms, lobby furniture, stairwells, etc.
Touch-free Safety Protocol will be sent to the guest via email or WhatsApp.
New signs have been posted in the guest rooms reminding guests of proper handwashing methods, symptoms of COVID-19, and contact information of Ministry of Health & Wellness Jamaica.
Hand Sanitizing stations have been installed in all public areas; e.g.: Entrance, Dining area, beside Pool etc.
Food + Beverage:
Hand sanitizing stations have been installed at dining area
Spaced out seating for social distancing in dining area
Self-serve buffet meal service has been discontinued.
Have someone serving tea and coffee with gloves, rather than self-service.
Try to ensure that staff hands are not touching the inside or outside of the tops of glasses or cups being served, and that glasses/cups etc. are served to the public by someone who is consistently washing their hands.
Servers will wear disposable gloves to collect trays, discarding the gloves immediately after the tray and all its contents have been delivered to the dishwashing area
Food trays will be set outside room entrance for room service delivery and guest notified
Front Desk Services:
Hand sanitizers at front desks, wipes and sprays to clean card machines, pens after each use. Guests are further encouraged to use personal pens whenever possible.
Key card drop off bowls has been installed to limit contact and facilitate check-out.
Guest Rooms:
The housekeeper will be equipped with PPE– disposable gloves, masks, disposable protective apron, and educated in the proper use and care.
The Housekeeper cleans every surface, with focus on constantly touched areas — handles of wardrobes, remotes, switches etc. and then leaves room, removes and discards gloves and begins again.
All room cleaning equipment used by Housekeepers will be cleaned and sanitized (mops, mop buckets, dust bins, cart) with Sanitized the recommended cleaning chemical and sanitizing agent
We are removing for the time being any unnecessary objects that are not changed daily that other previous guests may have touched e.g. extra pillows.
12A Victoria Team Members:
All staff have been provided with face masks that must be worn at all times while on property
Additional PPE's will be provided based on work tasks to include gloves, gowns, face shields, and other protective gear.
We actively encourage sick employees to stay home. Any symptoms reported by a team member means they must stay home and follow the MoHW guidelines.
Employees who have symptoms of acute respiratory illness are recommended to stay home and not come to work until they are free of fever (37.8° C using thermometer), signs of a fever, and any other symptoms for at least 24 hours, without the use of fever-reducing or other symptom-altering medicines (e.g. cough suppressants, paracetamol). Every team member should notify their supervisor and stay home if they are sick.
If it happens, we must separate sick employees — employees who appear to have acute respiratory illness symptoms (i.e. cough, shortness of breath) upon arrival to work or become sick during the day should be separated from other employees and be sent home immediately. Sick employees should cover their noses and mouths with a tissue when coughing or sneezing (or an elbow or shoulder if no tissue is available).
Emphasize staying home when sick, respiratory etiquette and hand hygiene by all employees.
Team members must clean their hands often by washing them with soap and hot water for at least 20 seconds or using an alcohol-based hand sanitizer. We have placed sanitizers in multiple locations to encourage hand hygiene.
During Your Stay:
While on the property we ask that you kindly observe 12A Victoria COVID-19 Safety Protocol at all times.
Encouraged external clients to communicate with us via WhatsApp and Phone Call at (876)220-2383 instead of in person
While in all public areas in the 12A Victoria, you will be required to wear a mask at all times when you are out of your room. If you need to buy a mask, they are available at the Front Desk.
Temperature checks will be carried out on check-in and randomly by our team during your stay. This is to protect everyone and identify any early symptoms. If you exhibit an elevated temperature you will be required to self-isolate in-room until the Ministry of Health personal are alerted and advise the next steps.
Washing your hands often with soap and water for at least 20 seconds following "How to wash your hand" sign in your bathroom especially after you have been in a public place, or after blowing your nose, coughing, or sneezing.
Social distancing protocols are in place at the hotel and across the island, and this may require staggered meal periods. Kindly observe a minimum of 6 feetbetween individuals.
This distance will be monitored especially in the areas where there may be a greater concentration of people, such as front desk area, swimming pools, or other outdoor areas. The distance between dining chairs, and tables, will be increased, and marks will be placed indicating the distance to be kept.
Avoid close contact with anyone showing symptoms of respiratory illness such as coughing, sneezing and/or runny nose
If you observe anyone showing COVID-19 symptoms kindly advise the General Manager who will follow up on the matter immediately.
If for any reason you may feel unwell please isolate yourself in your room, or if you have any questions or concerns in regard to the property, please contact us by phone at (876) 220-2383 Muugii Samms (General Manager & Safety Point Person (SPP)
If you have suspected case of Covid-19 or exposure, please contact Ministry of Health & Wellness Jamaica at 888-663-5683 or Mandeville Manchester, Nadine Williams at (876)318-0476
Meetings / Conferences / Private Dining:
We will effectively double any meeting space to accommodate double the space for a group by putting a full chair or two between guests.
Have an appropriate supply of hand sanitizer units, regularly replenished.
Paper sachets of sugar rather than any open surfaces.
Sandwiches, platters etc. should be served in portions or individual plates and replenished as needed.
Visible notices and reminders to wash hands and use hand sanitizer, and also visible notices informing attendees of the measures we are taking to protect them and our team.
We're here for you!
We will ensure that we provide the highest level of hospitality that you deserve and will take appropriate measures to ensure continued service at 12A Victoria.
STAY SAFETY